From Christies...With Love

The 2001 James Bond Auction
London - 2pm Valentines Day, Wednesday February 14th 2001
Having been to the previous James Bond auction at Christies in September 1998, I was eager to re-visit the scene this time around. An impressive array of Bond Memorabilia was on display in South Kensington. Posters, props, costumes, toys, guns, and souvenirs could be seen, together with a bikini which took pride of place in the hanger, a large room which was to be the scene of the auction itself. The Aston Martin DB5 from GoldenEye was in the nearby showroom of car dealers H.R.Owen.
Click on the photos for a larger image
A collection of jewelry worn by the original Miss Moneypenny, Lois Maxwell, formed part of the auction display, together with some of her scripts. Part of the room was devoted to cabinets and cupboards full of models and toys, from Aston Martin's to BMW's, via Lotus and Citroen. The rare Gilbert 007 Road Race Set was present, as well as many other games, puzzles and Secret Agent kits. The many and varied posters formed a colourful backdrop to the other items, all looked to be in exceptionally fine condition given the age of some of them.
If you wished to view an item more closely, staff were on hand to open up the cabinets and allow you to decide for yourself whether £20,000 was worth paying for the Rolex from 'Live and Let Die' (The one with the spinning bezel saw). In the auction it sold for £22,000, with the production drawing for the watch going for a further £6,000 to the same buyer.
On auction day, once the doors were opened the room quickly filled with TV camera crews from all over the world, news photographers and journalists, and eager bidders and Bond fans. Promptly at 2pm, the auctioneer brought proceedings underway with Lot 1, a gold Corgi Aston Martin DB5 toy, which sold for £500. As the auction progressed through a large collection of toys and merchandising, interest began to grow as Lot 65 approached. The 1965 Aston Martin DB5, driven by Pierce Brosnan in the chase above Monte Carlo in 'GoldenEye', was expected to fetch between £100,000 and £150,000. Bidding was keen, and after several people had dropped out along the way, it eventually went to a man sitting at the back of the room for £140,000
It was bought by Max Reid from Sheffield, owner of a computer leasing company. He bought it as a Valentine's gift for his wife Helen. Everyone say aaahh!
Much media attention had been leveled at Lot 89, the Prop Walther PPK from NSNA, and the local Trading Standards officials had been investigating. The catalogue description had been amended to indicate that this gun had not been used in the film or for promotional purposes, but had been obtained for Sean Connery just before filming commenced. In the film, a Walther P5 had been used instead of the PPK. In spite of this, the gun still sold for £3,000, right in the middle of it's estimated value.
I had been attracted to the Walther air pistol (Lot 250), used in promotional photographs of Sean Connery as James Bond in 'From Russia With Love' onwards. This gun has an interesting story since it was provided by Magnum photographer David Hurn when Connery turned up without a prop Walther PPK for the photo shoot. This photograph became one of the most recognisable images of 007 for the rest of the sixties, and the gun is in a very good condition in its original case. The following photographs show the gun in its case, and modeled by Christies press officer Saffron Garner. (Good name for a Bond girl, Raymond!) In the auction the gun sold for £12,000.
A 16mm Cine Camera (Lot 259), said to have been used by Ian Fleming during filming of FRWL, sold for £2,200, together with over 150 stills from filming. During the auction, DJ Chris Evans walked in with his girlfriend, pop star Billie Piper. Press photographers descended upon them before being asked by the staff to leave them alone. They sat in the front row for half an hour , before leaving empty handed.
If you are an autograph hunter, the most interesting Lot was 248. Three photographs of Blofeld, played by Donald Pleasence, Telly Savalas and Charles Gray, with separate autographs from all 3 actors, now deceased, reached a staggering £3,500! You could probably have put the same item together yourself for less than £400, which was it's estimated value.
The final item to be auctioned, Lot 291, was the ivory cotton bikini worn by Ursula Andress as she emerged, Venus like, from the Caribbean in the first James Bond film Dr. No. Nearly 40 years on, this most famous piece of swimwear is in remarkably good condition, Ursula obviously didn't wear it much after shooting wrapped. (The belt, buckle and knife are not the originals, and were not included in the lot). After a fairly short exchange between a telephone bidder and the auction room, auctioneer Hugh Edmeads brought the hammer down at £35,000. It latter transpired that Robert Earl, co-founder of Planet Hollywood, had bought the bikini for display in his restaurant in New York's Times Square.
As the room slowly cleared, items were being taken out of their cabinets, posters removed from the walls and the largest display of Bond props for many years slowly disappeared from public view. Rather sad, that nearly £600,000 of items would now only be seen by a privileged few. Surely its time for a permanent James Bond Museum to be set up, this would be a fitting tribute to the thousands of talented individuals who have contributed to nearly 40 years of Cinema history. Hopefully in 2002 we will be able to not only celebrate a new film, BOND 20, but also find somewhere to spend a few hours wallowing in 40 years of nostalgia.
Click here for more photos of the auction
Please note that I have used the hammer price in all values on this page, the full price of each lot will include the buyers premium and VAT where applicable
For a full list of lots, with photographs, the Christies catalogue of sale is well worth buying at £15. Visit the Christies website for ordering information, and also to see the final auction prices.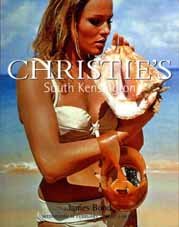 Many thanks to the staff at Christies, South Kensington, especially Saffron.
Words and pictures ©2001 David Williams
No part of this article may be used without permission from David Williams
James Bond movie props are available for sale on our new website