Q-boat squeezes down the canals of London
Monday May 24, 1999
LONDON - After two months of continuing filming, the 2nd unit of "The World Is Not Enough", staged a spectacular scene on their last day on the Thames.
David Williams reports from London
Today was the final day for the 2nd unit on the Pre-credit sequence in London. But what a day!
Arriving in Tobacco Dock in East London, Wapping Lane had been closed to all through traffic, and the road was full of film unit vehicles, including the now familiar red London Double-Decker Bus. A couple of Bond boats were in the Dock, which is more like a canal, with Wapping Lane crossing one end.
The previous week EON's Art Dept. had been busy building a London Canoe Centre shed, complete with racks of canoes and a ramp leading up from the water. Several cameras were already in position, one on a track parallel with the canal. At 10:30am Wade Eastwood, steering the boat straight as a die, cut through the water between some startled canoeists, shot up the ramp, through the boathouse, out the other end and into a pile of boxes.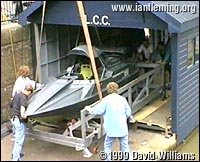 Once the debris had been cleared away, a large crane hoisted another 'Q' boat in its cradle, into position inside the back end of the boat house. I walked back to the other end of the dock and received a smile and a wave from Wade. I positioned myself on the footbridge which runs across the dock, and looking down I spied Vic Armstrong looking up, and he gave me a smile and a 'Hi there, alright?'
Since I would have been in shot, I repositioned myself alongside the footpath and watched as Wade jumped the boat up two levels in the canal. This was filmed from a Bickers Action camera car which drove along the footpath that runs the length of the dock.
Once this sequence was in the can, preparations were made for the main stunt of the day...
To be continued!